On your First Visit to Riverside Chiropractor Clinic we will take a detailed patient history, and perform an initial examination of the affected areas to accurately diagnose what is causing your symptoms.
Please see Rates for our current charges.
What's causing my problems?
Before treatment begins, the chiropractor will tell you what's wrong and what can be done about it. In some cases, more detailed information may be required, such as an X-ray or MRI scan. In these cases, treatment will be delayed until the chiropractor has obtained the necessary information.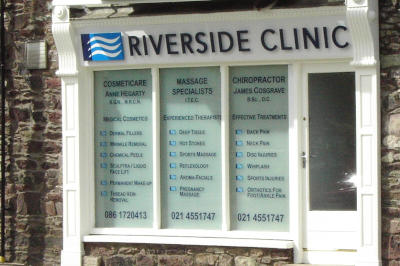 X-rays and MRI scans
When needed, further tests are ordered without delay. X-rays (when clinically indicated) are usually performed within hours of your initial visit so that there is minimal delay in starting treatment. MRI scans are generally not required but when needed appointments are available within 48 hours.
New pricing structures have brought the cost of X-rays down to €70 and mri scans down to €200.
Treatment
Most treatment is performed lying down or sitting on the Chiropractor's table. Treatment involves gentle mobilization and manipulation of the spine, or other affected area. This is quick and painless and is often associated with a 'clicking' of the joint.
After Treatment
While many patients experience immediate relief from pain, others will react by experiencing temporary symptoms for a day or two after treatment such as soreness around the treatment area. Neck adjustments may result in a light headache. Inflammation may seem to get worse at the start of treatment. These symptoms are temporary and will usually disappear after a day or two.
The chiropractor will have a discussion with you about what to expect and how best to manage your condition inbetween treatments. You may be advised on diet, exercise and posture. You will also be told how many chiropractor treatments are expected at this stage, although this will depend on your body's response to treatment.
You may find the Patient FAQ (Frequently Asked Questions) helpful to answer some common questions we get, such as 'Can I play sport after a treatment?'